Texas Gun Company Sues The Government After Destroying 72,000 Bump Stocks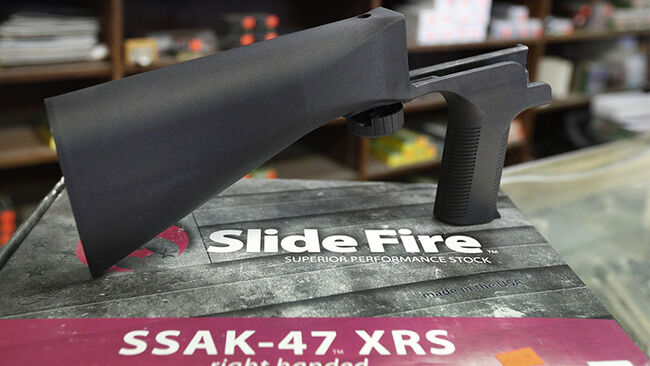 A firearms dealer based in Fort Worth, Texas has filed a lawsuit against the federal government after being forced to destroy over 72,000 bump stocks. RW Arms, which bills itself as the largest bump stock supplier in the country, is seeking fair market value compensation for the accessories, which they estimate to be around $20 million.
On March 26, the company handed over their entire inventory of bump stocks, which are designed to use a rifle's recoil to fire shots in rapid succession, to local enforcement to be destroyed to comply with an order by the Trump administration. The order, issued in December by then-acting Attorney General Matthew Whitaker, outlawed the sale of bump stocks and required anybody who owns the accessories to dispose of them or turn them over to the Bureau of Alcohol, Tobacco, Firearms, and Explosives.
"Without legislation, the government was able to overturn the previous ruling on bump stocks effectively turning law abiding gun owners into felons overnight if they were not turned in or destroyed," Michael Stewart of RW Arms said in a statement. "This is an injustice, overreach, and infringement on our 2nd amendment and 5th amendment rights."
Photo: Getty Images